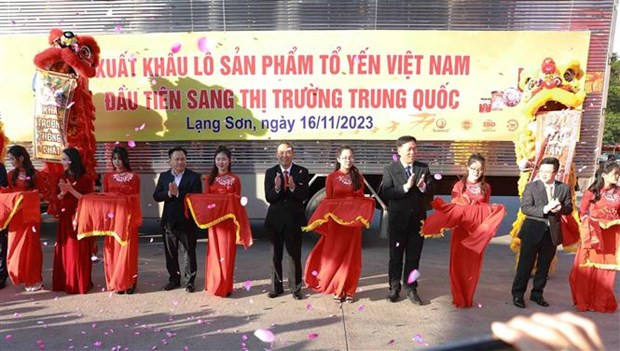 Representatives from agencies, localities and enterprises at the ceremony. (Photo: VNA)
A ceremony was held in the northern border province of Lang Son to announce the export of first batch of bird's nest products to China following a protocol signed in November of 2022 between the Vietnamese Ministry of Agriculture and Rural Development (MARD) and the Chinese General Administration of Customs.
The products are manufactured by AVANEST Vietnam Nutrition Joint Stock Company – the first Vietnamese allowed to provide processed bird's nests and cooked bird's nest pots to China.
The event marked an important milestone of the Vietnamese agricultural sector as well as the bird's nest industry in penetrating the world largest bird's nest consuming market with a demand of more than 300 tonnes per year, accounting for about 80% of the global consumption.
Chinese data showed that China imported 220 tonnes of bird's nests in 2020, more than 300 tonnes in 2021 and 425 tonnes in 2022, mostly from Indonesia, Malaysia, Thailand and now Vietnam.
In Vietnam, bird nest farming for commercial purposes is a new industry started in 2004 in the Southern provinces, developing rapidly over the last decade.
Currently, 42 out of 63 provinces engage in bird's nest farming with over 22,000 bird's nest houses. Vietnam's annual bird's nest output is about 150 tonnes worth over 600 million USD. With the effectiveness of the protocol with China, the Vietnamese bird's nest industry has many opportunities for development.
At the ceremony, a memorandum of understanding on cooperation in bird's nest export was signed between the Bird's Nest Associations of Binh Dinh province, Gia Lai province's Quang Da and Chu Se districts, An Giang province and Quang Ngai province and AVANEST Vietnam Nutrition Joint Stock Company.
Under the deal, the associations will provide raw materials to AVANEST Vietnam for processing for export. Meanwhile, the firm will supply the associations with training on farming and harvesting techniques as well as management tools serving their operations.
Industrial energy efficiency important to sustainable future in Vietnam
The Ministry of Industry and Trade (MoIT) and the UN Industrial Development Organisation (UNIDO) held a workshop in Hanoi on November 15 to launch a project on promoting energy efficiency in large industries.
The project on accelerating energy efficiency in large industries through energy management systems, system optimisation, and the promotion of energy efficiency in small and medium-sized enterprises in Vietnam (IEEP) is part of the EU – Vietnam Sustainable Energy Transition Programme (SETP), funded by the EU and implemented by UNIDO and the MoIT's Energy Efficiency and Sustainable Development Department from 2023 to 2027.
The project consists of enhancing the institutional and policy framework, implementing capacity building and improvement programmes, and implementing the projects on energy management systems and system optimisation. The focus is on 10 industries, namely pulp and paper food processing, aquatic processing, textile – garment making, chemical and fertiliser plants, rubber processing, metallurgy and steel, cement, plastics, and the beverage industry.
Phuong Hoang Kim, Director of the Project Management Board, said that to boost efficient energy use across economic sectors the Vietnamese Government has carried out a number of important policies and programmes. These include the promulgation of the Law on Economical and Efficient Use of Energy, the national target prorgamme on economical and efficient energy use for 2006 – 2015, and the national labour programme for 2019 – 2030.
During that process, Vietnam has received substantial assistance from the World Bank, the EU, the UN Industrial Development Organisation, and the Governments of Denmark, the Republic of Korea, and Japan through financial aid packages, the sharing of management experience, and the transfer of advanced techniques, he noted.
He considered the IEEP project as important to helping the MoIT carry out activities to achieve the targets of the national programme on economical and efficiency energy use for 2019 – 2025, including saving 5 – 7% of the total energy consumed nationwide.
This project aims to step up the demand for energy saving solutions in industries, reduce greenhouse gas and carbon emissions, and increase the productivity and competitiveness of industries in Vietnam, according to the official.
Kristina Buende, head of cooperation at the EU Delegation to Vietnam, said sustainable energy transition is one of the EU's priorities in the world to promote green and sustainable development.
The EU Delegation hopes that the IEEP project under the SETP will help the national programme of Vietnam to realise the commitments on sustainable energy transition and net zero emissions by 2050, she added.
Le Thi Thanh Thao, Chief Representative of the UNIDO Office, said the IEEP project will also be useful for businesses, especially exporters, to meet the requirements for emission reduction in industrial activities, including the Carbon Border Adjustment Mechanism of the EU.
The application of energy management and transition solutions is critical to enhancing business and industry competitiveness, thus contributing to the development of a sustainable and circular economy, investment attraction, and environmental protection, Thao said.
Over 600 transactions recorded at Vietnam-China International Trade Fair
More than 600 transactions, 89 agreements and 22 pairs of contracts were signed during the six-day Vietnam-China International Trade Fair, which wrapped up in Vietnam's northern border province of Lao Cai on November 15.
The fair helped to promote not only trade ties but also cooperation in culture, tourism and investment between the two countries, said Deputy Director of the provincial Department of Industry and Trade Nguyen Huy Tuong.
With more than 500 booths by over 300 businesses from eight Chinese cities and provinces and 50 Vietnamese localities, the event attracted some 150,000 visitors, creating about 60 billion VND (2.46 million USD) in revenue for participating businesses.
Within the framework of the fair, there were talks between authorities of Vietnamese and Chinese localities and conferences, which paved the way for cooperation in such fields as import-export services, logistics, transportation, tourism, finance, and processing and manufacturing, and people-to-people exchange.
The annual trade fair is held alternatively by Lao Cai and Yunnan, according to an agreement between the Vietnamese Ministry of Industry and Trade and Yunnan authorities.
Remittance flows forecast to increase in year-end months: experts
Remittances to Vietnam has been on the rise since the outset of 2023, and will continue to increase in the remaining months of the year, especially ahead of the traditional Lunar New Year (Tet holidays), according to experts.
Deputy Director of the State Bank of Vietnam (SBV)'s Ho Chi Minh City Branch Nguyen Duc Lenh said as of the end of September, the southern largest economic hub received more than 6.68 billion USD in remittances, a year-on-year surge of 40% and equivalent to 101.3% of last year's figure.
The robust growth of remittance inflows has backed the monetary and foreign exchange markets amidst fluctuation of strong currencies and high inflation rates in several countries, he stressed.
Remittances from Asia accounted for the lion's share, making up of 53.1% of the total, he said, elaborating that the growth can be attributed to the economic and political stability of the region, as well as expanding international economic relations and labour cooperation.
Lenh said that with a view to attracting more remittances in the year-end months, credit institutions should work to improve their service quality, while banks should pay attention to popularising remittance transfer and receipt services as well as local socio-economic development and business climate among Vietnamese expats.
Dr. Nguyen Tri Hieu, a finance-banking expert, said that amidst global headwinds, HCM City got an impressive amount of remittance during the first nine months of the year.
He quoted statistics from the SBV's HCM City Branch as saying the city has been a leading locality in remittance inflows in recent five years, with the amount in 2018 accounting for 44.1% of the country's total, 48% in 2019, 53.8% in 2020, 52.8% in 2021, and 55.03% in 2022.
Vietnam is ranked among the world's top 10 countries in terms of remittances, according to the World Bank. 
Around 5.3 million Vietnamese people reside in 130 countries and territories worldwide, with 2 million having connections to or originating from the city.
Remittances to Vietnam exceed 10 billion USD each year. Last year, remittances to the country saw a nearly 5%, amounting to 19 billion USD.
Mekong Connect 2023 Forum looks to green economic development
The two-day Mekong Connect 2023 Forum is underway in Ho Chi Minh City, highlighting the connection of supply and value chains between the southern metropolis and 13 Mekong Delta localities towards a green and sustainable economy.
At the opening ceremony on November 15, Vice Chairman of the HCM City People's Committee Vo Van Hoan said the forum comes after the signing of an agreement on socio-economic development cooperation between the city and the delta localities.
Its diverse content is expected to open up new directions for the business community and provide policy recommendations for local authorities, he noted. Particularly, given the context where connectivity has become a top priority for the localities involved, the forum contributes measures to linking their activities across various economic sectors.
It features a main session and four parallel seminars. Participating representatives from ministries, associations, experts, and businessmen are set to discuss a series of topics, such as creating a business climate for the green economy, expanding market opportunities for Vietnamese products in 2024, and specific development mechanisms for HCM City.
In addition, an exhibition space showcasing Vietnam's green and sustainable economy is underway, with nearly 100 enterprises introducing local specialties and deep processing farm produce, among many other products.
Vietnam's M&A attractive to foreign investors
An influx of new capital from European and US firms into Vietnam has become noticeable, with the local mergers and acquisitions (M&A) market expected to maintain its attractiveness despite its relatively modest scale.
The assessment was heard at the first Global M&A Partners (GMAP) conference held in Vietnam earlier this week. Global M&A Partners is a partnership of independent corporate finance advisory firms operating in 50 countries and regions across the Americas, Europe, and the Asia-Pacific.
Ivan Alver, Co-chairman of GMAP, said he believes that Vietnam's strengths lie in its stable political environment, abundant and skilled labour force, and competitive labour costs. As a result, multinationals are choosing the Southeast Asian country as a destination to implement their supply chain diversification strategies.
In addition to the prospect of becoming a manufacturing hub in the region, Vietnam also promises to be a consumer market with an increasing middle-class population. European and American investors will have to invest more to penetrate this market, said Alver.
Sam Yoshida, CEO of RECOF Vietnam, stated that global economic fluctuations are directly impacting Japanese investors, hence a need to invest to seek profits in attractive markets like Vietnam.
According to the official, Vietnam's sectors related to consumers will continue to attract M&A opportunities from foreign investors, such as FMCG, retail, food manufacturing and processing, logistics – warehouses, and finance – fintech.
Alver highlighted Vietnam's great potential in the semiconductor industry, given the sector's specificity and the nation's favourable conditions resulting from recent agreements signed with the US.
Arnaud Ginolin, deputy general director of Boston Consulting Group Vietnam, shared that although electronic manufacturing companies in Vietnam mainly focus on outsourcing activities, the country, with its current advantages, can certainly rise in the value chain of the semiconductor industry.
Vietnamese steel exports record positive growth in 10 months
Vietnam exported more than 6.7 million tonnes of steel during the 10-month period, representing a rise of 26.1% year on year, according to the Vietnam Steel Association (VSA).      
The strongest export growth of 201% was recorded in hot rolled steel products (HRC), followed by galvanized steel and steel pipes with respective rises of 2.8% and 17%.
The nation's 10 largest steel export markets this year include Italy, Cambodia, the United States, India, Malaysia, Indonesia, Belgium, Spain, Taiwan (China), and Thailand.
Within the EU, Italy becomes the largest importer of Vietnamese steel products with more than 1.35 million tonnes, representing an increase of 128%.
According to the European Steel Association (EUROFER), Vietnam accounts for 8.1% of the total amount of finished steel imported into Europe over the past eight months of the year.
While the EU's imports of finished steel from Turkey, China, and India decreased sharply by 59%, 11%, and 3%, respectively, imports from Vietnam edged up 15%.
Most notably, India rose to become Vietnam's fourth largest steel export market during the 10-month period, purchasing more than 730,000 tonnes worth over US$539.7 million, marking a 16-fold rise in output and an increase of 7.8 times in value year on year.
According to the World Steel Association (Worldsteel), global steel demand is projected to increase by 1.8% this year before rising to 1.9% next year.
Tuna exports to UK market suffer decline on strict requirements
Vietnamese tuna exports to the UK market endured a downturn in September, representing a fall of 36% against the same period from last year, according to the Vietnam Association of Seafood Exporters and Producers (VASEP).  
Industry insiders attributed the decrease to the UK's stringent import requirements placed on seafood products, which are equivalent to those of the EU.
ietnamese aquatic exports are currently subject to the European Commission (EC)'s "yellow card" warning, a factor which has made Vietnamese tuna become less competitive in the UK market.
However, nine-month tuna exports to thVe market increased by 48% year on year to hit more than US$5.5 million.
With regard to product structure, Vietnam mainly exports frozen tuna meat/loin coded HS0304 to the UK market in the reviewed period, accounting for more than 94% of total export turnover.
This means Vietnamese exports of fresh and frozen tuna products to the UK have been increasing sharply compared to the same period last year, according to experts.
The International Trade Center (ITC) reported that the UK's tuna imports during the seven-month period reached more than US$291 million, marking an increase of 4% year on year.
With the rising consumption demand during the year-end period coupled with the UK's recent falling inflation, there is a positive outlook ahead for Vietnamese tuna exports to this market.
Currently, Vietnam makes up the 13th largest supplier of tuna to the UK market, behind Ecuador, the Philippines, Thailand, and Indonesia.
Vietjet to launch Ho Chi Minh City – Shanghai air route in December
Budget airline Vietjet is scheduled to run direct fights between Ho Chi minh City (Vietnam) and Shanghai (China), starting on December 1, 2023.
The airline announced seven round-trip flights per week, with each flight taking more than four hours to fly between the two destinations.  
The launch of the new route is to celebrate 74 years of diplomatic ties between Vietnam and China (1950-2024) and 30 years of the sister city relationship between Ho Chi Minh City and Shanghai (1994-2024). It is anticipated to further promote trade, culture and education cooperation, as well as people-to-people exchanges between the two cities and two countries.
On this occasion, Vietjet offered big promotions for passengers to choose its flights on this new route.
Vietjet has operated flights between Vietnam and China since 2014, with first flights bringing Chinese travelers to top tourist destinations in Vietnam such as Nha Trang, Da Nang, and Phu Quoc.
The new route will not only connect Shanghai with Ho Chi Minh City but also expand Vietjet's flight network covering Vietnam, Australia, India, Indonesia, Thailand, Singapore, Malaysia, and Kazakhstan.
Vietnam urged to redefine competitive advantages to attract UK investment
Vietnam needed to redefine its competitive advantages in the new period to be ready to receive foreign direct investment flows from the United Kingdom (UK), experts have said.
Despite cheap labour costs and abundant personnel resources, Vietnam should rely on new factors including an attractive and transparent investment environment, simplified and digitalised administrative procedures, and infrastructure development, they said.
In addition, the UK is a country with a developed high-tech industry, so to effectively attract FDI from the UK, Vietnam should establish an ecosystem that could effectively support domestic suppliers with sufficient management capacities so that they could meet the needs of tier 1 and tier 2 suppliers of British foreign-invested enterprises in Vietnam.
According to experts, the UK's investment in Vietnam will likely increase thanks to many favourable factors. These include close relationships in multiple areas such as education, science and technology, industry, and energy as well as the UK's applause for Vietnam's commitment to achieving net-zero energy emissions by 2025. The UK then vows to provide Vietnam with technical support, expertise as well as establish partnerships and energy transition and climate change programmes for Vietnam.
As of August 20, 2023, the UK had 542 direct investment projects in Vietnam with registered capital of about 4.29 billion USD, ranking 15th out of 143 countries and territories investing directly in Vietnam.
The processing and manufacturing industry lured the lion's share of UK investment with 117 projects worth 1.59 billion USD, accounting for 38.1% of the total investment capital.
The property sector came next with seven projects, valued at 701.44 million USD or 16.7% of the total. It was followed by the mining sector, wholesale and retail, car and motorbike repair, accommodation and food services, water supply and waste treatment, science and technology, and education.
UK investors poured their investments into 36 localities and offshore areas in Vietnam. Of which, Ho Chi Minh City took the lead with 244 projects with capital totalling over 909 million USD or equivalent to 21.6% of the total UK investment in Vietnam. Offshore areas came next with five projects capitalised at 688 million USD and Dong Nai province with 11 projects valued at 670.8 million USD. Others were Hai Duong, Long An and Binh Duong provinces.
Over the past eight months of 2023, the UK had a total of 34 new investment projects in Vietnam with registered capital reaching 48.3 million USD. Among European countries, the UK is now the second-largest foreign investor in Vietnam, just after the Netherlands.
According to Deputy Minister of Industry and Trade Nguyen Sinh Nhat Tan, the UK-Vietnam Free Trade Agreement (UKVFTA), taking effect since May 2021, and the Comprehensive and Progressive Agreement for Trans-Pacific Partnership (CPTPP), which the UK joined on July 16, 2023, would be strong drivers to further develop bilateral relations, especially in investment in the future.
Policies a launching pad for circular economy: Deputy PM
Specific policies will serve as a launching pad for enterprises and industrial parks to promote circular business practices in the most effective way, Deputy Prime Minister Tran Hong Ha said on November 16.
At the Vietnam Circular Economy Forum 2023 held in Hanoi by the Ministry of Natural Resources and Environment in collaboration with the United Nations Development Programme (UNDP), Ha stressed that besides a specific plan with detailed targets and a consensus from the society, a legal corridor is needed to shape up circular economy models which involve the responsibilities of all sectors.
The State must play a central role in creating policies and frameworks that facilitate sustainable practices, enterprises be the locomotive, and organisations and individuals engage in the efforts to bolster the circular economy, he highlighted.
Laying an emphasis on building a national action plan to carry out the circular economy, Minister of Natural Resources and Environment Dang Quoc Khanh said that the plan will provide a specific strategy in both long and short term for the country to shift to the circular economy towards sustainable development.
Over the past time, environmental and climate issues have been put at the centre of the country's agendas and development plan, setting a goal of ensuring people's health, quality of the living environment, and protection of bio-diversity and ecosystem, he added.
 At the Vietnam Circular Economy Forum 2023 held in Hanoi on November 16. (Photo: baotainguyenmoitruong.vn)
At the forum, domestic and international development partners discussed a draft national action plan for the circular economy and an implementation roadmap. They highlighted that financial mechanisms such as carbon market development and innovative financing for biodiversity and ecosystem services as well as the mobilisation of the private sector in sewage management are seen as important resources to implement the circular economy in the coming time.
Within the framework of the forum, 20 booths were arranged, introducing models and solutions promoting the circular economy towards environmental protection and sustainable development.
On the sidelines of the forum, UNDP Resident Representative Ramla Khalidi said the organisation believes building a sustainable, inclusive and prosperous world by 2030 is not only necessary but also feasible.
By shifting to a low-carbon economy and circular economy, Vietnam is able to lead and orient its development roadmap to attain sustainable development goals, she said, adding the country should invest in three strategic groups, namely better design for circular economy, acceleration of digital economy, and improvement of human capital.
Meanwhile, President and CEO of Thailand's Siam Cement Group said with a national action plan to implement the circular economy, more Vietnamese enterprises will apply the Environment, Society and Governance (ESG) standards, adding his group are expecting to cooperate with Vietnamese partners to promote the circular economy with a view to enhancing the ASEAN bloc's competitive capacity in the international market.
Wellness Expo 2023 kicks off in Hanoi
The International Wellness Food, Healthcare Industry & Lifestyle Expo 2023 in Vietnam (Wellness Expo 2023) kicked off at the National Exhibition Construction Center in Hanoi on November 16.      
Opening with the theme of "Healthy Living Journey", the exhibition features a total of 150 booths from more than 100 domestic and Korean exhibitors.
On showcase are a range of technology and smart devices, nutritional food and beverages, medical items, healthcare and beauty care products, along with sportswear and accessories.
According to the organising board, the expo aims to introduce high-quality products to customers and to inspire healthy living among the community.
Within the framework of Wellness Expo, a number of activities will also be held, including a specialised seminar and workshop, a business matching session, a Vietnamese – Korean culture experience space, and a live shopping event.
Wellness Expo 2023 has been co-organised by the Asia Trade Fair and Business Promotion (ATFA), the Korea Wellness Industry Association, and Goldsun Media Group.
The expo is scheduled to last until November 18.
MoIT starts project to promote greater energy eficiency
A project to promote energy efficiency among large business enterprises has been started by the Ministry of Industry and Trade (MoIT), in collaboration with the United Nations Industrial Development Organization (UNIDO).
The project, which targets better energy efficiency (EE) through the Energy Management Systems (EnMS) and energy efficiency practices in small and medium-sized enterprises in the country, is part of the Vietnam-EU Sustainable Energy Transition Programme (SEPT) sponsored by the European Union (EU), implemented by UNIDO and the MoIT over a period of five years, from 2023 to 2027.
The project's mission objective is to increase market demand and application of EE solutions in industrial activities to achieve greater efficiency, reduce greenhouse gas emissions, and carbon emissions, and enhance the productivity and competitiveness of Việt Nam's industrial sectors.
The three main components of the project consist of the strengthening of institutional and policy frameworks; implementing capacity-building programmes and EnMS; and system optimisation on ten targeted industries including paper and pulp, food processing, seafood processing, textiles, chemical and fertiliser manufacturing, rubber processing, metallurgy and steel, cement, plastics, and beverages.
"The project plays a crucial role in the MoIT's implementation of EE activities to increase the country's energy efficiency, as well as being a part of a national programme during the 2019-25 period, aiming to save 5-7 per cent of Việt Nam's total energy consumption," said Phương Hoàng Kim, the project's director and head of the Department of Energy Efficiency and Sustainable Development under the MoIT.
"We hope that the IEEP project component of the SEPT will help the National Programme on energy-efficient and effective use achieve its set goals and contribute to supporting Việt Nam in fulfilling commitments to sustainable energy transition and achieving net-zero emissions by 2050," said Kristina Bünde, Head of Cooperation, Delegation of the European Union to Việt Nam said.
Attending the launch event were delegates from the MoIT, the EU, the UNIDO, State agencies, international organisations, banks, financial institutions, associations, consulting companies, suppliers of EE services and equipment, business enterprises, universities and research institutes from within and outside of Việt Nam. 
Improving capacity to prevent and handle violations in Vietnamese e-commerce
Many synchronous solutions are needed to prevent and handle violations in Vietnamese e-commerce, according to the general director of Việt Nam Directorate of Market Surveillance (DMS) under the Ministry of Industry and Trade (MoIT).
Speaking at the opening of the workshop on improving capacity to prevent and handle violations in Vietnamese e-commerce on Wednesday, Trần Hữu Linh, DMS general director, assessed the current situation in the prevention, combat and handling of administrative violations in Vietnamese e-commerce.
E-commerce and online goods trading are dominating daily life more and more, requiring the authorities to promptly grasp and have control methods, said Linh.
Linh added that the project on anti-counterfeiting and consumer protection in e-commerce until 2025 was approved by the Government according to the submission of the MoIT on March 29.
Talking about trade and consumption activities, Linh commented that in recent years the economy had recovered and purchasing power had been good.
However, in the past two years, e-commerce has become one of the big problems, affecting direct business at stores and shops.
Buyers are gradually changing their habits, leading to establishments having to reduce their presence on the street and change their business form.
The general director gave an example at Ninh Hiệp market which has about 2,000 business households, trading activities here and was normally busy. However, the market has been very desolate and deserted from the beginning of this year.
In HCM City, even on busy streets in District 1 and District 3, more and more properties that were previously rented now stand empty.
Statistics given by the DMS show that retail sales on the internet in Việt Nam were VNĐ13 billion (US$541.6 million) in 2020. This number skyrocketed to VNĐ35 billion last year.
Việt Nam is also the country with the highest percentage of shopping population in Southeast Asia. Nearly half of its population shops online, the highest in Southeast Asia with 49.3 million people, equivalent to 41 per cent of the population.
Difficulties in identifying and handling violations
The general director said that fighting counterfeit goods on e-commerce was an extremely important and an urgent issue that needs to be addressed.
This is not only the task of the MoIT but also the common responsibility of society, especially, the market surveillance force.
However, currently, the explosive development of e-commerce has been creating challenges for forces in inspecting and controlling the quality of goods.
Nowadays, the e-commerce environment is growing "hot" and the complexity is increasing, putting pressure on human resources as they have to fight on a new front.
If not done well, an unhealthy online environment will be a potential place to hoard, store, transport and trade infringing goods, contraband and prohibited goods.
The market surveillance force has determined that combating counterfeit goods on e-commerce would be its key task over the next three to five years.
To effectively prevent and stop violations on e-commerce, we must consider social networks and e-commerce platforms as a battlefield, virtual space as real life to proactively fight and promptly detect and handle violations, emphasised Linh.
In addition, it is necessary to build a cyberspace management system, monitoring system, and warning of dangers and risks for digital transformation throughout and unified from the central to local market surveillance force to quickly handle problems, incidents and violations.
E-commerce and social networks are extremely large, cross-border spaces, so it is necessary to promote the application of information technology and pay attention to investment in facilities, equipment and people to serve the task of fighting against counterfeit goods on e-commerce.
In addition, it is also necessary to promote coordination between relevant agencies in inspecting and controlling activities that take advantage of e-commerce to trade counterfeit goods and goods of unknown origin. 
Symposium explores potential of Việt Nam – Germany innovation cooperation
The Consulate General of Việt Nam in Frankfurt, Germany and the Việt Nam-Germany Innovation Network (VGInetwork) held a symposium looking into the prospects of cooperation in artificial intelligence (AI), innovation and smart city development.
Consul General Lê Quang Long highly valued the coordination between VGInetwork and the Consulate General's science and technology division to hold the symposium to share information about new technologies to help develop priority economic and technical fields in Việt Nam such as smart city development and AI.
He also applauded the development of VGInetwork and its expansion to the experts in the southwest of Germany to contribute to innovation cooperation.
Prof. Dr. Nguyễn Xuân Thính, head of the spatial information management and modelling research group at the Technical University of Dortmund and also Chairman of VGInetwork, highlighted the network's outstanding activities and the potential of the countries' cooperation in smart city and smart building development.
Prof. Dr. Vũ Đức Bình from SRH University Heidelberg, who is also a member of VGInetwork, said that with Germany's strengths in digital technology and Việt Nam's large information technology manpower, AI is a highly potential cooperation orientation promising practical benefits for both countries.
Meanwhile, VGInetwork executive board member Vương Hồng Trí, who attended the recent inauguration of the Vietnam National Innovation Centre in the suburbs of Hà Nội, reported on their activities at the Vietnam International Innovation Expo 2023 to open up opportunities for the countries' cooperation in IT, AI, and manpower training.
They also proposed a tech-fest or IT Day for Việt Nam to be held in Germany in 2024 to connect the start-up and innovation ecosystems of the countries.
Trần Đông, head of the Consulate General's science and technology division, highly valued the network's achievements since its establishment over four years ago, including developing energy, auto and mechanic, digitalisation and AI and biotech and medicine hubs, expanding the fields of research cooperation, and admitting new members to contribute to the homeland's development. 
Banks should be allowed to purchase corporate bonds issued for debt restructuring: HoREA
The HCM City Real Estate Association (HoREA) has proposed the central bank amend a regulation that currently prohibits credit institutions from buying corporate bonds issued for debt restructuring.
The HoREA said that the current regulation is inconsistent with another regulation that allows companies to issue bonds for that purpose.
"It is essential that commercial banks be allowed to purchase corporate bonds for debt restructuring, particularly in light of the high volume of corporate bonds reaching maturity next year," the HoREA said.
The move is necessary to provide relief to companies facing the pressure of significant corporate bond maturities in the near future, according to HoREA.
According to data from HoREA, total corporate bonds set to mature in 2024 will reach VNĐ329.5 trillion (US$13.5 billion), the highest in three years and up from VNĐ144.5 trillion last year and VNĐ271.4 trillion this year. 
The fourth quarter of this year will see VNĐ65.5 trillion of bonds maturing, the highest volume of matured bonds for all of 2023.
The last two months of the year will see over VNĐ41 trillion of bonds maturing. Almost 80 per cent of these maturing bonds are from the real estate sector, according to HoREA.
Experts have warned the pressure of bond repayment will continue next year as many issuers, mostly property developers, grapple with capital shortages and business difficulties. 
Financial challenges have led various enterprises to seek negotiations with bondholders to extend bond redemption dates amid a sluggish property market and reduced cash flows.
According to data from the Hanoi Stock Exchange (HNX) by VNDirect, over 60 issuers have successfully negotiated to extend bond repayment dates for a total of VNĐ107 trillion as of October 27.
The Ministry of Finance has urged issuers to fulfill their repayment obligations and ensure timely payments. 
The Government in March issued a decree which has allowed issuers to extend debt maturities by up to two years and use other assets for bond payments, subject to bondholder approval.
As a result, over VNĐ42 trillion ($1.77 billion) worth of corporate bonds were rolled over in the second quarter of the year.
Recently, major property firm Novaland has proposed using assets from The Grand Manhattan project in downtown HCM City to settle outstanding debt from three bond packages. 
The firm also plans to use properties from luxury developments in Bình Thuận Province to settle outstanding debt as it has overdue payments for several bond packages due in February and May with a remaining value exceeding VNĐ1.58 trillion.
Local media have reported that nearly 70 companies have reported delinquencies amounting to VNĐ176.1 trillion, with the real estate sector making up the majority. 
While extending bond maturity dates presents risks and challenges, such negotiations require agreement from all parties involved, including bondholders, investors, and creditors.
Lê Hoàng Châu, chairman of HoREA, pointed out that few bondholders accepted the option of receiving other assets for bond repayments, citing overpricing and legal issues.
The corporate bond market has boomed in recent years due to increased capital demand from property developers and banks. 
However, market sentiment shifted unexpectedly in October of last year following the arrest of the Vạn Thịnh Phát Group's chairwoman in a case related to bond market fraud. 
The real estate sector holds the largest outstanding bond value at VNĐ396.3 trillion, or 33.8 percent of total bonds, as reported by S&P Global Ratings.
Without improvement in the property sector, further defaults may loom, warned the report. 
Prime Minister Phạm Minh Chính has ordered the State Bank of Vietnam and the Ministry of Finance, which are primarily responsible for managing bond defaults, to improve their management in order to revive the troubled market. 
Italian Food Fair opens at Central Retail's food store chain
The Italian Food Fair kicked off at Tops Market Thao Dien supermarket, a food retail chain of Central Retail Group in Ho Chi Minh City on November 16, aiming to provide consumers with fresh shopping experiences, and meet their diverse needs during the year-end shopping season.
Addressing the event, Enrico Padula, consul general of Italy in Ho Chi Minh City, highly appreciated Central Retail Group's cooperation in introducing Italian top products to customers in Vietnam.
Through these efforts, local consumers will also feel more secure when having the opportunity to gain access to genuine and high-quality products from Italy, he added.
Visitors to the fair enjoyed sampling authentic dishes such as bruschetta appetizer, penne pasta dish made with sausage meat, and Italian Truffle oil prepared by leading Italian chefs.
The culinary event will run at the Tops Market supermarket chain and some GO! and BigC hypermarkets in Hanoi, Da Nang, and Ho Chi Minh City from November 16 to 22.
Most notably, consumers also have the opportunity to purchase Italian products at attractive discounts ranging between 10% and 20%.
US issues conclusion on tax evasion investigation of Vietnamese steel pipe products
The United States' Department of Commerce (DOC) has issued a conclusion of its investigation into trade remedy tax evasion on a number of steel pipe products imported from Vietnam, which was launched on August 4, 2022 targeting steel pipes codes HS 7306.61 and 7306.30, according to the Ministry of Industry and Trade.
The investigation was prompted by accusations that Vietnamese steel makers imported hot rolled steel (HRS), the main raw material used to produce steel pipes, from mainland China, Taiwan (China), the Republic of Korea, and India, and then processed it into steel pipes for export to the US. Firms making the accusation believe that Vietnamese processors had done so in order to evade the respective trade remedy tax that the US is levying on the aforementioned countries. 
On August 3 this year, the DOC concluded that certain circular welded carbon steel pipes and circular welded non-alloy steel pipe which were imported from Vietnam did not evade anti-dumping and countervailing duties that the US is currently applying to similar products from Taiwan (China), due to the fact that these products did not use hot-rolled steel (HRS) sourced from Taiwan. 
Then on November 9, the DOC issued final conclusions on the remaining investigated steel pipe products saying that Vietnamese makers of those products had evaded the anti-dumping/countervailing duties imposed by the US on China, Taiwan (China), the Republic of Korea, and India.
The Ministry of Industry and Trade noted that the DOC, however, allowed Vietnamese exporters to participate in the self-certification mechanism to confirm that they do not use HRS originating from China, Taiwan (China), the Republic of Korea, and India to be exempt from the measures.
Source: VNA/SGT/VNS/VOV/Dtinews/SGGP/VGP/Hanoitimes